uni.news - Tag [homepage]
This is the archive of uni.aktuell news (until March 2022). For more recent news and stories please visit aktuell.uni-bielefeld.de.
Published on 27. Oktober 2021
How do galaxies evolve? The European Pulsar Timing Array provides a significant step forward
The European Pulsar Timing Array collaboration reports on the outcome of a 24 year observing campaign with five large-aperture radio telescopes in Europe, resulting in a candidate signal for the since-long sought gravitational wave background due to in-spiraling supermassive black-hole binaries. The collaboration brings together teams of astronomers around the largest European radio telescopes, as well as groups specialized in data analysis and modelling of gravitational wave signals. Among them are astrophysicists from the research group of Professor Dr. Joris Verbiest from the Faculty of Physics at Bielefeld University.Although a detection cannot be claimed yet, this represents a significant step in the effort to finally unveil gravitational waves at very low frequencies in the Nanohertz regime.
The results are presented online as refereed publication in the "Monthly Notices of the Royal Astronomical Society".
[Weiterlesen]
Posted by NLangohr
in General
Published on 17. Juni 2021
At the invitation of the Observatory Magna Charta in Bologna, Italy, Bielefeld University participated in the virtual ceremony for the official signing of the 2020 Magna Charta Universitatum, which took place on June 16th and 17th. Rector Professor Dr.-Ing. Gerhard Sagerer served as signatory in the ceremony. In a video message, Rector Sagerer explained how the values of the Magna Charta Universitatum are put into practice at Bielefeld University. This presentation was selected as an exemplary model of "Best Practices" at the ceremony.
[Weiterlesen]
Posted by MSilina
in General
Published on 5. November 2020
Professor Barbara Hammer and three European colleagues receive ERC Synergy Grant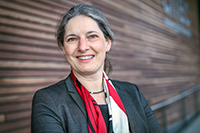 Secure the supply of drinking water in the face of urban growth: Dr Barbara Hammer, professor of computer science from Bielefeld University, and three other European scientists will be exploring new technologies for this purpose. The European Research Council (ERC) is supporting the four scientists in their project Water-Futures with its Synergy Grant—one of the European Union's most prestigious research grants. For the next six years, the four researchers will receive a total of 10 million euros, 2.4 million euros of which will go to Bielefeld University.
[Weiterlesen]
Posted by JHeeren
in General
Published on 15. September 2020
Next step in the strategic partnership with Canada
Due to the pandemic, digital teaching at German universities has developed rapidly in recent months. Bielefeld University can now make particular use of this upswing for its partnership with higher education institutions in the Canadian region of Alberta, thereby pushing ahead withinternational virtual academic cooperation. The 'We CAN Virtu-OWL' project between Eastern Westphalian universities and partner universities in the Alberta region (Canada), which has been approved by the German Academic Exchange Service (DAAD) and is led by Bielefeld University, is being funded by the Federal Ministry of Education and Research (BMBF) with 210,000 euros.
[Weiterlesen]
Posted by JBömer
in General
Published on 2. Juli 2020
The question is answered by a researcher, a staff member and a student at the university
Innovative research and teaching in a network of six young European universities away from the big metropolises: With this vision, the university, together with five partner universities, is applying to become a "European university". What does Europe mean for research, studying and working at university? The question is answered by a researcher, a staff member and a student at the university.
[Weiterlesen]
Posted by JBömer
in General
Published on 9. Juni 2020
Bielefeld University, together with five other universities, is applying for the title "European University". The decision will be made in July. In an interview, Professor Angelika Epple, Vice Rector for International Affairs and Diversity, explains the background.
Foto: Universität Bielefeld/S. Jonek
[Weiterlesen]
Posted by JBömer
in General
Published on 15. Mai 2020
New ZiF research group on the effects of digital media
Social media is changing communication just as much as the dissemination of news. Radical positions that used to be voiced in the private sphere can now reach a worldwide audience. The research group "Multimodal Rhetoric in Online Media Communications" at the Center for Interdisciplinary Research (ZiF) at Bielefeld University will investigate how sub-communities and other interested parties create, manage and disseminate information across media platforms. The researchers will focus specifically on the role of language, images and videos in this process. The group starts on May 18, with a virtual opening conference. The aim is to develop analysis tools that will allow us track the development and flow of different kinds of information, particularly false information, across media platforms.
[Weiterlesen]
Posted by JBömer
in General
Published on 27. Februar 2020
International project to help determine genetic abnormalities
When new viruses or bacteria spread to humans, it is essential to clarify their special characteristics as quickly as possible. For example, why is the coronavirus resistant to common drugs? In the future, new Big Data technology can help to identify the characteristics of new strains of viruses and bacteria in a short time. It does this by comparing the genome of a single organism with the genome of all the strains of a species. This procedure can also be used for more highly developed organisms such as mammals. The new project 'Pangaia' at Bielefeld University is investigating how the masses of data used in this process can be ordered and analysed for use in biomedicine. The university is one of eleven project partners from Europe and North America. The EU is funding the project with 1.14 million euros over three years.
[Weiterlesen]
Posted by JHeeren
in General
Published on 24. Februar 2020
Further funding for the project based in Bielefeld five years after its start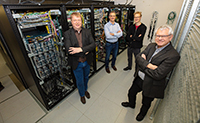 It should be possible for researchers in the life sciences to draw on powerful technological services throughout Germany when they need to analyse large data sets. This is why the Federal Ministry of Education and Research (BMBF) invested about 80 million euros in a major large-scale project: the German Network for Bioinformatics Infrastructure (de.NBI). Bielefeld University is coordinating the project. On Thursday 13 February, scientists and politicians celebrated the fifth anniversary and the previous successes of the network with a symposium in Berlin. These successes include a distributed cloud infrastructure, eight service centres throughout the nation, and 40 participating bioinformatics groups. The BMBF has now announced continued funding for the de.NBI. Until the end of 2021, Bielefeld University alone will have up to 5.3 million euros at its disposal to continue the project.
[Weiterlesen]
Posted by JHeeren
in General
Published on 24. Februar 2020
Closing conference for joint project on radicalization online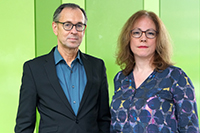 Key players in radical Islamic and extreme right-wing groups make use of similar strategies to mobilize support on social media. The joint research project "X-Sonar" arrived at this finding. The Bundesministerium für Bildung und Forschung (Federal Ministry of Education and Research, BMBF) funded X-Sonar's work as part of their funding line on civil securityresearch. Over the past three years, X-Sonar researchers investigated the ways in which extremist groups build networks of support both online and offline. It is through these groups that they engage people and mobilize support for their aims. The researchers evaluated both online content and the biographies of convicted individuals who were active in extremist spheres in order to pave the way for early intervention and prevention in the future.
[Weiterlesen]
Posted by JHeeren
in General
Tag Hinweis
Auf dieser Seite werden nur die mit dem Tag [homepage] versehenen Blogeinträge gezeigt.
Wenn Sie alle Blogeinträge sehen möchten klicken Sie auf: Startseite