uni.news
This is the archive of uni.aktuell news (until March 2022). For more recent news and stories please visit aktuell.uni-bielefeld.de.
Published on 14. März 2022
Biologists have investigated the purpose of changes in preen oil
What senses do birds use? Obviously, they use hearing and sight—after all, they sing and often have colourful plumage. But what about the sense of smell? For a long time, it was thought that olfaction played no role in birds. In recent years, however, a number of papers have emerged that refute this assumption—including research that looks at the secretion from the preen gland that birds smear on their feathers several times a day. Scientists, including some from Bielefeld University, have investigated what changes there might be in the composition of the secretion and what role smell plays in this. Their study was published on 6 February in the journal Biological Reviews.
[Weiterlesen]
Posted by MSilina
in General
Published on 5. März 2022
Research network develops technology to fight bacterial contamination
Inflammation of the middle ear is often triggered a cholesteatoma, an aggressive form of chronic otitis media. In order to detect cholesteatomas and bacterial biofilms and to remove them safely, the new collaborative project 'BetterView' is working on a special surgical microscope. This so-called SWIR microscope system uses short-wave infrared light. The aim is to illuminate blood, bacterial biofilms, cartilage, and soft tissue; display them spatially; and make them distinguishable from each other. The seven partner institutions cooperating in the project include Bielefeld University and Klinikum Bielefeld, one of the hospitals forming the University Hospital OWL. The research is coordinated by the medical technology company Munich Surgical Imaging. A total of 4.1 million euros will be spent on the project. The Federal Ministry of Education and Research is funding the new research.
[Weiterlesen]
Posted by JHeeren
in General
Published on 25. Februar 2022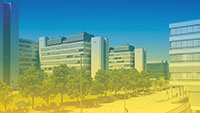 "We are deeply saddened by the news reaching us from Ukraine. It is depressing that another war is taking place on European soil. Our thoughts are with the people - among them many students and scientists. The entire Bielefeld University is under the impression of this terrible event. Many relatives are worried about their family members, cooperation partners and fellow students. At this time, we as a university are also called upon to contribute our competencies - we are convinced that many academics are observing and evaluating the developments from within their disciplines and are making a contribution to ensuring that a well-founded and fact-based social debate is conducted."
The Rectorate of Bielefeld University
Bielefeld University maintains a partnership with the National University of Kyiv-Mohyla Academy. Currently, 25 students from Ukraine are enrolled at Bielefeld University.

Posted by NLangohr
in General
Published on 15. Februar 2022
Bielefeld University researchers identify cell structures involved
Cell division ensures growth or renewal and is thus vital for all organisms. However, the process differs somewhat in animals, bacteria, fungi, plants, and algae. Until now, little was known about how cell division occurs in algae. Researchers at Bielefeld University have used confocal laser scanning microscopy (CLSM) to capture the very first high-resolution three-dimensional images of cell division in live cells of the microalga Volvox carteri, and have identified new cellular structures involved in the process. Professor Dr Armin Hallmann from the Faculty of Biology is leading the study. The findings have now been published open access in the journal The Plant Cell.
[Weiterlesen]
Posted by MSilina
in General
Published on 2. Februar 2022
First comprehensive survey of first-generation migrants and subsequent generations
Health literacy plays a decisive role in reaching old age in good health. Low health literacy contributes to behaviors like being sedentary and not exercising, eating a less nutritious diet, taking more medications, and using healthcare services more often. Even though individuals with a migration background now comprise almost a quarter of the entire population of Germany, there has not previously been comprehensive research on their health literacy. Researchers from Bielefeld University and the University of Cologne are now, for the first time, analyzing the health literacy of people with a migration background. The key finding: contrary to the prevailing view, health literacy among people with a migration background is similar to that of the general German population – and even tends to be slightly higher.
[Weiterlesen]
Posted by FFollmer
in General
Published on 18. Januar 2022
International Research Cooperation receives 1.2 million euros in new funding
Development of religion and worldview is the focus of a longitudinal study at the University of Tennessee at Chattanooga, USA and Bielefeld University, Germany. The researchers mainly distinguish four religious styles that indicate how faith, spirituality, and worldview shape an adult person's life. In a recent analysis, researchers of the project have demonstrated how religious styles change during an adult's lifespan. They have also identified predictors of such development. Now, this research network is continuing with new funding as of this month to the tune of 1.2 million euros (1.35 million US dollars).
[Weiterlesen]
Posted by JHeeren
in General
Published on 17. Dezember 2021
New Humboldt Professor Yaochu Jin is doing research on nature-inspired artificial intelligence at Bielefeld University
How can artificial intelligence (AI) draw on principles from nature to solve complex problems? When it comes to recognizing patterns in large amounts of data, AI is faster and more capable than humans. However, it has difficulties when it has to make connections or deal with uncertainties and fuzziness. Through evolution, development, and learning, nature has developed much more practical problem-solving solutions. Professor Dr.-Ing. Yaochu Jin, the Alexander von Humboldt Professor of Artificial Intelligence at Bielefeld University since the autumn, is looking at how such principles can be transferred to AI.
[Weiterlesen]
Posted by JHeeren
in General
Published on 13. Dezember 2021
Within the partnership of four universities in OWL and the region of Alberta
Collaborative teaching and learning across national borders: Bielefeld University (project lead), Paderborn University, Bielefeld University of Applied Sciences, and OWL University of Applied Sciences showed how international online learning and teaching can be implemented successfully. Within We CAN virtuOWL, the German-Canadian project partners developed joint digital teaching and learning formats and gave their students access to international experience without travelling. The project was funded by the German Academic Exchange Service (DAAD) and the Federal Ministry of Education and Research (BMBF) and has now ended.
[Weiterlesen]
Posted by MSilina
in General
Published on 26. November 2021
Bielefeld University researchers identify causative gene
For the targeted treatment of a disease, information is needed about the course of the disease at molecular and cellular level. This is also true for the group of muscle diseases that include congenital muscular dystrophies (CMD). Bielefeld scientists have been able to identify a crucial gene that triggers CMD when it ceases to function. The principal collaborator is the research group of Carsten G. Bönnemann, M.D., of the National Institutes of Health in the USA; numerous other international partners were involved in the research project. The collaboration is financed by third-party funds from the German Research Foundation (DFG). The results were published in the EMBO Molecular Medicine journal on 15 November 2021.
[Weiterlesen]
Posted by IAschmann
in General
Published on 27. Oktober 2021
How do galaxies evolve? The European Pulsar Timing Array provides a significant step forward
The European Pulsar Timing Array collaboration reports on the outcome of a 24 year observing campaign with five large-aperture radio telescopes in Europe, resulting in a candidate signal for the since-long sought gravitational wave background due to in-spiraling supermassive black-hole binaries. The collaboration brings together teams of astronomers around the largest European radio telescopes, as well as groups specialized in data analysis and modelling of gravitational wave signals. Among them are astrophysicists from the research group of Professor Dr. Joris Verbiest from the Faculty of Physics at Bielefeld University.Although a detection cannot be claimed yet, this represents a significant step in the effort to finally unveil gravitational waves at very low frequencies in the Nanohertz regime.
The results are presented online as refereed publication in the "Monthly Notices of the Royal Astronomical Society".
[Weiterlesen]
Posted by NLangohr
in General