uni.news - Tag [fo]
Published on 3. Februar 2021
Bielefeld researchers provide 3D images of coronaviruses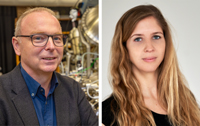 Scientists at Bielefeld University's Faculty of Physics have succeeded for the first time in imaging the SARS-CoV-2 coronavirus with a helium ion microscope. In contrast to the more conventional electron microscopy, the samples do not need a thin metal coating in helium ion microscopy. This allows interactions between the coronaviruses and their host cell to be observed particularly clearly. The scientists have published their findings, obtained in collaboration with researchers from Bielefeld University's Medical School OWL and Justus Liebig University Giessen, in the Beilstein Journal of Nanotechnology.
[Weiterlesen]
Posted by JHeeren
in General
Published on 29. Mai 2020
Fibre laser microscopy to be used in clinical applications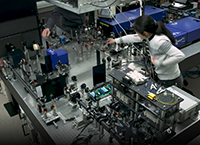 When investigating how tumors grow, or how pharmaceuticals affect different types of cells, researchers have to understand how molecules within a cell react – and interact. This is possible with modern laser microscopy. Until now, however, molecules in cell specimens had to be labelled with fluorescent substances in order to make them visible, and this can distort the very behavior of the molecules. Research groups from Bielefeld University and the University of Hong Kong have developed a laser microscope that works without having to label the molecules. For this, the researchers innovated a unique compact fibre laser instead of the solid-state lasers that had previously been used. The new microscope generates far less noise when in use than customary designs, making it suitable for use in operating rooms. The researchers presented their innovative technology in the journal 'Light: Science and Applications,' which is published by Springer Nature.
[Weiterlesen]
Posted by JHeeren
in General
Published on 24. Februar 2020
Further funding for the project based in Bielefeld five years after its start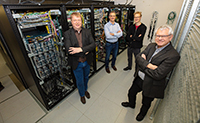 It should be possible for researchers in the life sciences to draw on powerful technological services throughout Germany when they need to analyse large data sets. This is why the Federal Ministry of Education and Research (BMBF) invested about 80 million euros in a major large-scale project: the German Network for Bioinformatics Infrastructure (de.NBI). Bielefeld University is coordinating the project. On Thursday 13 February, scientists and politicians celebrated the fifth anniversary and the previous successes of the network with a symposium in Berlin. These successes include a distributed cloud infrastructure, eight service centres throughout the nation, and 40 participating bioinformatics groups. The BMBF has now announced continued funding for the de.NBI. Until the end of 2021, Bielefeld University alone will have up to 5.3 million euros at its disposal to continue the project.
[Weiterlesen]
Posted by JHeeren
in General
Published on 24. Februar 2020
Closing conference for joint project on radicalization online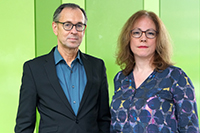 Key players in radical Islamic and extreme right-wing groups make use of similar strategies to mobilize support on social media. The joint research project "X-Sonar" arrived at this finding. The Bundesministerium für Bildung und Forschung (Federal Ministry of Education and Research, BMBF) funded X-Sonar's work as part of their funding line on civil securityresearch. Over the past three years, X-Sonar researchers investigated the ways in which extremist groups build networks of support both online and offline. It is through these groups that they engage people and mobilize support for their aims. The researchers evaluated both online content and the biographies of convicted individuals who were active in extremist spheres in order to pave the way for early intervention and prevention in the future.
[Weiterlesen]
Posted by JHeeren
in General
Published on 27. Januar 2020
The Bielefeld University Society (UGBi) awards prizes for the best doctoral theses at the university. Topics range from genetic diversity in seals across nanomembranes to a sense of responsibility in artificial intelligence.
[Weiterlesen]
Posted by JHeeren
in General
Published on 13. Juni 2019
Study by researchers at Bielefeld University, University of Hamburg, and New York University
Without being aware of it, people sometimes wrongly perceive tactile sensations. A new study in the scientific journal "Current Biology" shows how healthy people can sometimes misattribute touch to the wrong side of their body, or even to a completely wrong part of the body. The study was conducted by researchers at Bielefeld University's Cluster of Excellence CITEC, the University of Hamburg, and New York University.
[Weiterlesen]
Posted by JHeeren
in General
Published on 1. März 2019
Bielefeld University coordinates joint project / Main phase begins
[Weiterlesen]
Posted by JBömer
in General
Published on 19. Februar 2019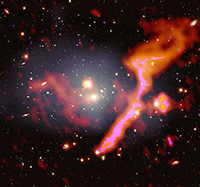 An international team of more than 200 astronomers from 18 countries has published the first phase of a major new radio sky survey at unprecedented sensitivity using the Low Frequency Array (LOFAR) telescope. The survey reveals hundreds of thousands of previously undetected galaxies, shedding new light on many research areas including the physics of black holes and how clusters of galaxies evolve. A special issue of the scientific journal Astronomy & Astrophysics is dedicated to the first twenty-six research papers describing the survey and its first results.
[Weiterlesen]
Posted by NLangohr
in General
Published on 18. Februar 2019
Scientists at the Universities of Würzburg and Bielefeld in Germany have discovered an unusual new light sensor in green algae. The sensor triggers a reaction that is similar to one in the human eye.

Just like land plants, algae use sunlight as an energy source. Many green algae actively move in the water; they can swim to the light or move away from it. For light perception they use special sensors (photoreceptors).
[Weiterlesen]
Posted by NLangohr
in General
Published on 28. November 2018
Conference on the future graduate training of young scholars


During its anniversary conference from 30 November to 1 December, the Bielefeld Graduate School in History and Sociology (BGHS) will look back on ten years' successful training of young researchers as well as the future of promoting young academics. The panel discussion, which will include Professor Dr Peter Strohschneider (President of the German Research Foundation DFG) and Professor Dr Richard Münch (University of Bamberg), will focus on the topic of the conference: "Graduate Training of Young Scholars in Germany – Responsibility for the Future".
[Weiterlesen]
Posted by MBerthold
in General